A Woman of Adventure: The Life and Times of First Lady Lou Henry Hoover
When Lou Henry married Herbert Hoover in 1899, she looked forward to a life of shared adventure as they traveled the globe. Lou's education as a geologist and her gift of writing helped propel Bert into a high profile career as a respected mining engineer. When World War I left the Hoovers stranded in Europe, Lou turned her attention to helping Americans return home and joined Bert in his work of feeding the starving Belgian nation. As Bert built his political base, Lou stayed in the background providing support typical of a political wife. In the meantime, she established a network of like-minded women who sought to support the education and self-esteem of girls and young women. When the Hoovers entered the White House in 1929, the country was thriving. Within a year, it would enter the worst economic depression in the nation's history. Lou's achievements before, during, and following her White House tenure have been hidden by this tragic event. A Woman of Adventure captures the spirit, the accomplishments, and the lasting contributions of a remarkable woman.
Buy: Potomac Books/University of Nebraska Press
---
Frank: The Story of Frances Folsom Cleveland, America's Youngest First Lady
She is sometimes considered the nineteenth century Jackie Kennedy, a comparison I'm not sure Frances would be all that comfortable with. The parallels, though, are fascinating. Frank, as she was called by her family, was deeply loved by the public. Her sense of style was impeccable, and she set a precedent by organizing a kindergarten in the White House for her eldest daughter, Ruth, and some of Ruth's playmates. Frank loved the theater and entertained actors and opera singers in the White House. She also cared for a sick husband, whose health was hidden from the public, and did her best to protect her children from the public eye. Frank: The Story of Frances Folsom Cleveland is the only complete biography of Frances Folsom Cleveland's long and very interesting life.
Winner, Ella Dickey Literacy Award, 2011 Marshfield, Missouri Cherry Blossom Festival.
Buy: Amazon | SUNY Press
---
The Gambler's Daughter: A Personal & Social History
Compulsive gambling is a big open secret. The creditors know about it. Family members hit up for money know about it. The community knows about it. The only ones in the dark are the wife and children – until the gambler hits rock bottom and has to come clean with what he's been doing.
I grew up with a father who gambled and who, when I was old enough, initiated me into the secret society that was a part of concealing his gambling behavior.
When I was 30 years old, I learned that compulsive gambling, like alcohol and drug abuse, was an addictive behavior. My father had the classic behavior patterns.
I began exploring what may have been the reasons to drive a gifted and intelligent man to gamble, and I came up with some surprising details. Compulsive gambling is more widespread than I could have ever imagined, and it has roots in the Jewish community that go back for nearly three millennia.
The Gambler's Daughter is both a memoir and a social history. More than anything else, it is a story of self-discovery and forgiveness.
Praise for The Gambler's Daughter
"Annette Dunlap's The Gambler's Daughter is a daring and engaging fusion of her family history with the history of the relationship of Jews to gambling. Meticulously researched and frequently startling, this brief and deeply motivated reflection achieves a triumph of entertaining enlightenment." –Sidney Offit, author of Memoir of the Bookie's Son
"Once I started reading The Gambler's Daughter I could not put it down. There are millions of adult children of compulsive gamblers in this world. It's wonderful that Annette Dunlap has written about this very important issue. This book perfectly captures the feelings of the child/wife of a gambler." — Arnie Wexler, Certified Compulsive Gambling Counselor (CCGC), Arnie and Sheila Wexler Associates
"The Gambler's Daughter is a well written and concise book, moving back and forth between Dunlap's personal narrative, current research, and the larger gambling cultures and society in which this memoir takes place. It is a timely and important contribution to the gambling literature, helping us understand the family life, struggles, and recovery of those who live(d) or grew up with someone with a gambling disorder—these are the voices often forgotten in the treatment, policy making, and research on gambling and they need to be heard." — Brian Castellani, author of Pathological Gambling: The Making of a Medical Problem
Buy: Amazon | SUNY Press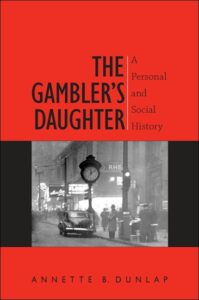 Buy: Amazon | SUNY Press
---
Charles Gates Dawes: A Life
Banker. Soldier. Statesman. Charles Gates Dawes was a larger-than-life businessman and politician whose career spanned two centuries. He served five presidents: William McKinley as campaign manager and the nation's youngest comptroller of the currency; Woodrow Wilson as the chief procurement officer for the Allied Forces during World War I; Warren G. Harding as the first director of the Bureau of the Budget; Calvin Coolidge as his vice president; and Herbert Hoover as Ambassador to the Court of St. James and the first president of the Reconstruction Finance Corporation. An outspoken and irreverent man, Dawes had a heart of gold and the keen mind of a businessman. Winner of the 1925 Nobel Peace Prize for his efforts at preserving the post-World War I peace in Europe through his leadership on the Reparations Commission, Charlie Dawes has been forgotten by history – and deserves to be remembered and occasionally quoted.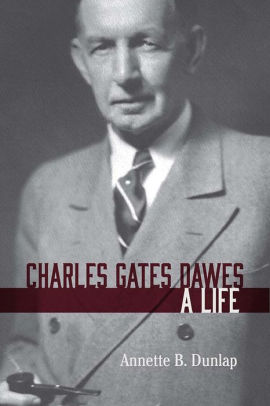 Buy: Amazon | SUNY Press
Contact me at: [email protected]
---